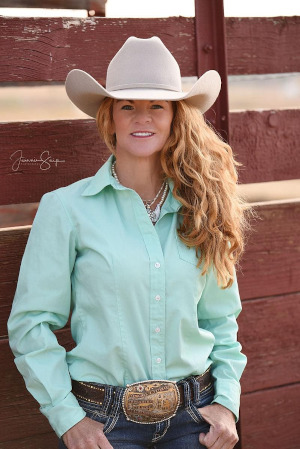 A message from the Founder and CEO
Tracey Nazarenus
They say "Cowgirl" is a condition of the heart.

My entire life I've been tough yet caring, compassionate and always wanting to help those in need. I own and run the "Second Chance Ranch" where we use the horses to help veterans with PTSD.
Everyday I also ask God to guide me. So when my biggest task was given, I was scared, yet determined to be successful. This is how I became the Founder and President of "Crusaders Valor For Veterans", a 501c3 nonprofit veterans organization. It was an eye-opening experience, the biggest challenge of my life, and still is.
It began when my son serving in Afghanistan, returned home. He appeared to be happy. I was so proud, and thought his life was amazing and he was now safe. Boy was I wrong. I Thank God someone told me that he was struggling with the demons of what he'd seen, done, and experienced while overseas. I was Blessed to get to him before he became another statistic of the 22 Veterans who end their lives every day.
People seem very good at extending an arm to shake a Veteran's hand and thank them for their service, but don't see the demons they're actually hiding. We must help before the demons circling in their heads win.
Returning Veterans often find themselves in trouble, hooked on drugs, alcohol, and domestic issues trying to be the man or woman they were when they left, only to find a society they can't communicate with; one that believes life is in their phones, and not in face-to-face communication.
I created a program for Combat Veterans to make sure they have food on their tables. This website has a full request for help form linked here.
For our Veterans, we say Thank You for your Service, but we also back it up with Action.
Also, our Colorado base program is Crusaders Valor Rodeo Royalty; a group of young cowgirls who are dedicated to our veterans, military, law enforcement, first responders and firefighters. They are positive role models for our youth and are trying to make America aware of all of the sacrifices that they make.
We all thank God everyday, and we live by the saying "Actions speak louder than words"
Thank you for supporting this effort.
Tracey Nazarenus
Founder and CEO
DONATIONS THAT MAKE A BIG DIFFERENCE