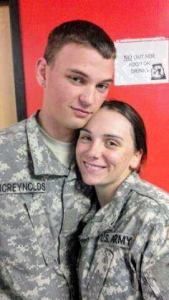 As shared by Ashley M: 
My husband lost his job last month and hasn't been able to start work. He has a job lined up and was supposed to start on the 19th of March but the company has pushed back his start date twice and now he isn't supposed to start till April 3rd. I have been paying medical bills from my surgery and we were depending on his check to help us finish catching up after my time out of work for medical. We need help to pay our electric bill which is due on April 6th.
Note from Crusaders: 
Ashley and her husband are both veterans and have fallen on tough times. He lost his job in March and will start a new job imid April . Ashley has been diagnosed with PTSD, social anxiety and depression. They need their electric bill paid so they don't get shut off on April 6th. We need to raise $448.00 to keep the power on. We will also check with the VA for any possible benefits to help Ashley and her husband in the future.