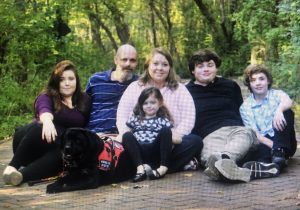 Leonard L (Kentucky):
Our electric bill is very high this month and with us already being behind on our mortgage, we are struggling to keep the lights on and food on the table. Right now for one month our bill was $534. With my wife being on workers comp er are not getting much money in. We do have my disability but it is used to try to catch the house payments up. We do not have the money to pay the LGE payment and it is due on the 30th of August. If not paid by then we will be shut off. As for the food, we do not get food stamps or any assistance for food so while things are like they are we are having a really hard time keeping food on the table for our family of 6.
It started when I broke my back in 2007. I have had many back surgeries since then and that originally started us being behind but with my wife working we managed to stay pretty caught up with everything. It started getting really bad when my wife was hurt at work lifting a heavy box. She has been off work since January 25th of this year and things have just continued to go backwards. We worked really had to get everything we have and have just had bad luck with the things going on with us.
Crusaders Notes: 
Crusadersvalorforveterans is going to pay their electric bill of $530. Please donate or share this Veterans story on your social media platforms. Tracey Nazarenus President Crusaders Valor For Veterans 303-324-7096