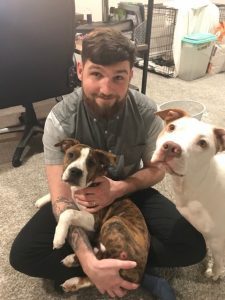 As shared by Skyler H: 
My 5 month old puppy, Koda, needs surgery to remove a tumor that is growing quickly. I've been out of the Army since December 2017. I'm pursuing a career in Cyber Security. I'm currently enrolled in school and hope to have a career secured by graduation this summer. My wife works full time as a Supervisor of the housekeeping staff at Penrose Hospital. We are struggling to stay afloat and cannot come up with the extra money to pay for the surgery right now.
Note from Crusaders: 
We contacted the vet Skyler takes Koda to and asked if they would consider a lower rate to get Koda fixed and to get the mass removed. They said they could not do that because they are corporate. I contacted my own vet. They said they will give me a call back tomorrow about what they can or cannot do.