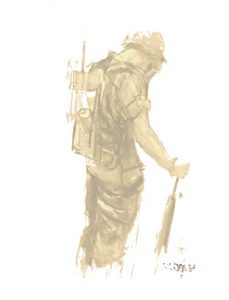 Most people would agree that our Veterans have sacrificed much, and most are quick to offer a handshake and a thank you… But what many of our Veterans really need is a hand-up, and two hands out in the form of hands-on help. That's exactly what the Crusaders Valor for Veterans™ does. We are in the trenches every day with our Veterans in-need.
We invite you to become a part of Crusaders Valor for Veterans™, because without people like you, we couldn't do what we do.
Whether you simply want to share and/or donate, or if you'd liked to get further involved by working directly with us and our veterans, whatever your level of support, we'd welcome you to our team; a network of individuals and organizations who really do care and are showing it by their actions, not just words.
---
► How You Can Help
★ Donate ★
This platform is backed by a 501(c)(3) Non-Profit that makes all of this possible. Every story you see on our site showcases an individual and a family that had circumstances spiraling out of control. Without the financial support from people like you…let's just say that it would be horrible to think about where our Veterans would be without it.
Please, contribute what you can through a Direct Donation Here, and also consider purchasing one of our monthly Action Packs that allows you to make an even bigger difference (see next item below)
★ Take Action ★
We are getting more and more Help Requests from Veterans coming in thanks to the results we get from working with our Veterans. Our solution to handle this increasing work-load and demand is to grow our support network. To do this, we need your help because we certainly cannot do it alone.
We'd like to send you a monthly package of items that can be shared with local merchants, at events, and passed out to individuals whom would be interested in supporting our Veterans in need. Please purchase one of our monthly Action Packs that, for around what it would cost for 1 to 3 fast-food excursions per month, you can help save a Veterans life (and that's much healthier for you too!)
These Action Packs are not just a donation (even though 50% goes directly to helping our Veterans each month), you also get a monthly Action Package in the mail that contains "action items" to help us spread the word about the Crusaders Valor for Veterans™. You'll receive stacks of stickers, window decals, brochures and other items each month, or choose to have these items sent to one of our "volunteers in the field" who would be happy to pass them out. Click here to get started.
★ Get Involved ★
Are you part of, or want to become a part of a Veteran Help Group? We are a Network of groups that work together in a "holistic" manner in order to help our Veterans, because often times, it takes a tribe to help the individual in-need. If you represent an organization, please sign them up by creating your organization's Group right here on Crusaders Valor for Veterans™.
If you have an area of expertise that can lend to helping Veterans, peruse the Veteran's Groups on Crusaders Valor for Veterans™ and see if there is a perfect fit for your area of expertise. Remember, each group offers something unique for our Veterans, and your skills may be just the fit for one of our Network Groups. Start or join a group by clicking here.
PLEASE SHARE CRUSADERS VALOR FOR VETERANS™