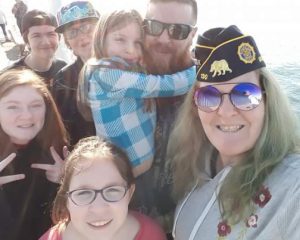 As shared by Anginette M:
I just got accepted into VA Vocational Rehabilitation and attend school in Ashland, OR at SOU. I drive over 120 miles a day from Wolf Creek, OR where we live in our 19 ft conversion van to get my kids to school and myself. I have a 6 member household and have to have my SUV to legally transport our family everyday. The bell housing on my truck transmission has cracked and it's dangerous to drive. We have been working with hud vash and I will have a voucher next week. I've been in treatment since September 2017 at the White City, VA.
I had to abandon my home in 2015 and have been running from my EX. I finally got help from some vets who came to my aid last year. That started me onto my road to recovery. I couldn't suck up my pride and ask for help. I have a disabled child and was at risk of losing my kids too. I was living in a tent and was cold and hungry. My medical conditions got so bad that I couldn't even think for myself. I have worked for almost 2 years to get the help I need. I just graduated from CPT therapy and trauma group. I will graduate from STAIRS group tomorrow. I have worked so hard to get back on my feet. I have two older children that graduated last year and are in college. I'm only 30% service connected and am still fighting my appeal for MST.
Note from Crusaders:
This veteran needs help!! Anginette is a wonderful Mom that wants to help everyone! She loves her family and would do anything for them. She drives over 120 miles a day from Wolf Creek (where she lives) to drop her kids off at school then drives herself to school. The bell housing on her truck transmission has cracked and it's dangerous to drive when it hits the flywheel bolts. We need to raise $750 to get a new one! Please help this wonderful lady and her family out by making a donation or sharing her story on your social media platforms. Thank you for your support!