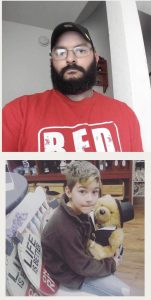 As shared by James R:
I developed epilepsy about 2yrs after I joined the guard. I was planning to go active duty but on the way to sign the paperwork, I started having gran mal seizures in the recruiters car going down the free way. After that they wanted nothing to do with me. I was allowed to stay in the guard until about a month before my initial enlistment was up and then they gave me a discharge due to medical circumstances. Since I was unable to complete the initial enlistment, they stripped me of all VA benefits. I was still looking at paying for a $20,000 hospital bill from all the time I spent in the hospital for those first seizures and over time I finally managed to get that cleared up. In 2007 I had a son and a month later lost my job due to another round of seizures. I found another job and 3 months later broke my ankle which put me out of work for a month. It seems like just as I start to get ahead something happens every time. Right now my son is 10 and I get him on the weekends.
I'm helping his Mom to pay for raising him but the money only stretches so far. My rent and utilities are currently past due with a combined total of $543 for rent and $224 for utilities. My gas has already been shut off I have until Friday June 15th to pay the rent and June 19th to pay the gas and get it back in my name before the management company who owns my apartment begins procedures for my eviction. I'm only going to be able to come up with around $408 with my paycheck. I've already sold off anything of value and don't have any family or friends that I can borrow the rest from.
Notes from Crusaders:
We need to raise money to help James get his outstanding bills caught up so that he doesn't become homeless or go without utilities and food. Please help us help this Veteran by donating or sharing his story on your social media platforms. Tracey Nazarenus President Crusaders Valor For Veterans 303-324-7096